Advanced Spine & Joint Care
|
3231 Business Park Drive, B,
Vista,
CA
92081
|
About Advanced Spine & Joint Care  
Our Process: Your Path to Lasting Wellness
Step 1
Your journey toward wellness begins with a comprehensive consultation and evaluation. Our experienced chiropractors will take the time to listen to your health concerns and goals.
Step 2
After understanding your needs, we conduct a thorough examination to identify the root causes of your discomfort. Our specialized chiropractic techniques help us uncover underlying issues.
Step 3
We'll create a personalized treatment plan that combines chiropractic adjustments, therapeutic interventions, and lifestyle recommendations.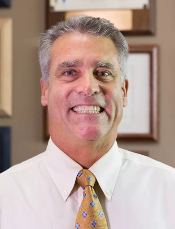 Meet Dr. Mark Elliott, D.C.
Dr. Elliott is a native San Diegan who graduated from Torrey Pines High School in the 1980s. Dr. Elliott graduated from Los Angeles College of Chiropractic (LACC) with a BS degree in Biology and a Doctor of Chiropractic (cum laude and dean's list).

Experience
After receiving his license in 1991, Dr. Elliott opened Performance Chiropractic Center (aka Advanced Spine and Joint Care) in Vista, CA, in 1992 and then Spine Decompression Center – the Non-Surgical Spinal Decompression side of the clinic in 2006.

Dr. Elliott has attended postgraduate education that produced certificates of achievement in X-ray diagnosis and interpretation, Receptor-Tonus Method (NIMMO deep tissue/myofascial release technique); achieved the status of Qualified Medical Evaluator and an Industrial Disability Evaluator for the state of California (2001-2007), is one of the only Kennedy trained and certified Spinal Decompression Therapy Practitioners in San Diego county; and qualified as a Level 1 Rehabilitation facility in 1997 by the Chiropractic Rehabilitation Association and the American College of Rehabilitation Science.
Outside The Office
Outside of the practice, Dr. Elliott enjoys golfing, surfing, and fishing with his son. He also enjoys wakeboarding, where he was seen on the front page of the local section of the North County Times on his birthday. Occasionally you will see a picture of him in the Western Outdoor News with a story of his latest catch. He is considered to be a true waterman.